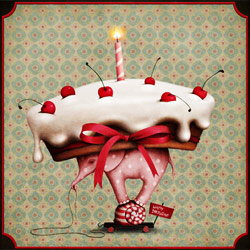 Happy, cheery, funny and warm birthday wishes for any age.
---
It is always better to be over the hill than to be six feet under it.
---
I wish you joy, love and courage in yet another fantastic year. Happy Birthday!
---
So many candles, so little cake…
---
Happy Birthday! That's a plenty of twenties we've got to celebrate!
---
Stop counting the candles and start thinking about the wishes each one represents!
---
You know you're in trouble when you can use the candles on your birthday cake to send smoke signals to aunt Trudie, asking if she's coming to celebrate.
---
No wonder some people fear their oncoming birthday. It's all those oddball birthday messages and poems, right? Happy birthday!
---
"
Old you are, but strong the force with you is still. Happy may your birthday be." - Master Yoda
---
With age comes wisdom. Hell, you must be one of the wisest people among my friends! Happy Birthday!
---
They say that all you need is love, so I hope you weren't expecting anything in the birthday gifts department. Happy Birthday!
---
Don't get too hung up on how old you are. A few more years and you won't remember it at all :-) Happy Birthday!
---
If I have been annoying, bitchy, impolite, ungrateful, and horrible to you, what can I say? You're going to get a lot more of me in the next year. Happy Birthday!
---
Chill, you aren't getting older, just moving a little closer to death. Happy Birthday!
---
I have a special wish for you on your birthday. May God give you the strength and lung capacity to blow out all those candles!
---
Go to the Beginning of
Happy Birthday Wishes

Part 1
|
Part 2
|
Part 3
|
Part 4