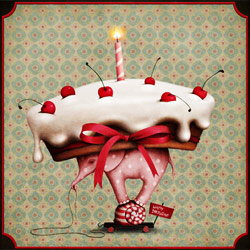 Happy, cheery, funny and warm birthday wishes for any age.
---
As long as the heat from the number of candles on your birthday cake doesn't contribute to the global warming, you're in the clear.
---
What with 6 billion people on this planet, imagine the odds - I'm so happy I know you! Happy Birthday!
---
Happy Birthday!I promise not to make any age-related jokes. I know that at your time of life they must already be very hurtful. Happy Birthday!
---
You bring sunshine in so many people's lives. I'm thankful that, being your friend, I'm also one of them. I wish that the suns in your life give you all the warmth and happiness that you may desire. Happy Birthday!
---
Friends remember your age, great friends really rub it in. Happy birthday, fossil!
---
Happy Birthday, may this be the best year of your life - so far!
---
For somebody your age, SHOUTY CAPITALS BECOME A MUST TO BATTLE THE WORSENING EYESIGHT. ALSO, HEARING ISN'T THAT GOOD EITHER SO THERE'S JUST ONE THING FOR IT – WE'LL HAVE TO CELEBRATE REALLY, REALLY LOUD! HAPPY BIRTHDAY!
---
Pots and oodles of joy, fun and the health-wealth-happiness package three times over - Happy Birthday!
---
Birthdays are disturbingly similar to boogers, the more you've amassed, the harder it gets to breathe.
---
I wish you so much love that it fills your whole life to the brim, so much happiness that it warms your face with smiles, so much laughter that it fills the neighbors with incredulous envy. Happy Birthday!
---
You know you are old when the number of birthday bumps starts posing a serious health hazard. Happy Birthday and never fear, you'll still get them, bud, this year!
---
I wish you the energy to make all your dreams come true, and I wish you such great dreams they give you the energy you need to attain them! Lots of love and Happy Birthday!
---
Birthdays are a very healthy thing. Scientists and statistics have proven that those who have had the most live the longest!
---
Thank you for all the fun, the listening, the optimism and the wonderful crazy ideas that you have, the world just wouldn't be the same without you. Happy Birthday!
---
Cash is tight and times are hard – be glad you get a birthday card!
---
For the many more coming years, I wish you the wisdom of an old sage, the health of a sprightly twenty-year-old athlete and the self-assurance of a toddler. Lots of love and happiness for your birthday!
---
Growing old is inevitable; growing up is just a broad suggestion.
---
The best soldiers are those who have gone through some battles, had a few victories, had a few losses and just march on, knowing a hell of a lot more about themselves and the laws of the battlefield. I'm so proud to know one like you. Happy Birthday.
---
Let me awe you with a rephrasing of the amazing Mother Theresa. The past is gone. The future has not yet come. But be happy, here is your present! Happy Birthday!
---
In the time we've known each other, you've made many changes in my life. Changes from grumpiness to laughter, from sadness to understanding, from confused to assured. And I'm the happiest for the change from not knowing you to knowing you. Happy Birthday!
---
Next Part
Happy Birthday Wishes, Part 2

Part 1
|
Part 2
|
Part 3
|
Part 4